As a responsible business, Womble Bond Dickinson is committed to creating better places to live, work and do business.
Our actions empower a variety of initiatives that have a strong, positive impact on the firm's colleagues, clients and local communities.
At Womble Bond Dickinson, responsible business is integral part of who we are as a firm. WBD focuses on six key areas of responsible business: environment, community engagement, diversity, equity and inclusion (DEI), wellbeing, social mobility and governance.
From the firm's commitment to net zero by 2030 and our sustainable procurement policy, to giving all colleagues 14 volunteering hours every year, along with our Stonewall Top 100 and Social Mobility Top 75 rankings - Womble Bond Dickinson is focused on a future centred around people and planet.
We carry this commitment through our work with clients, with a holistic approach to environmental, social and governance (ESG). 
WBD's gold sustainability rating from EcoVadis, which ranks the firm in the top two percent of the 100,000 companies submitting annually, demonstrates our commitment to putting responsible business at the heart of the firm.
Ultimately, we strive to continuously improve for our people, for our planet and for our clients.
in the Stonewall's Top 100 Employers list
Employer in the Social Mobility Index
volunteering or pro bono support hours given to employees annually
reduction in emissions since FY 2019/20
'wellbeing day' given to all colleagues each year
charity partnerships across all UK offices
of businesses globally by EcoVadis Sustainability Rating
of colleagues disclosed their Diversity, Equity & Inclusion data
"Systemic change takes time, but here at WBD we want to be at the forefront of the progress made and are working hard to make sure that good intentions are met with strong and tangible commitments."
Our responsible business objectives are mapped against the UN Sustainable Development Goals (SDG). We've identified the six UN SDGs as having the most impact on our law firm, that support the vision of achieving a better and more sustainable future for all.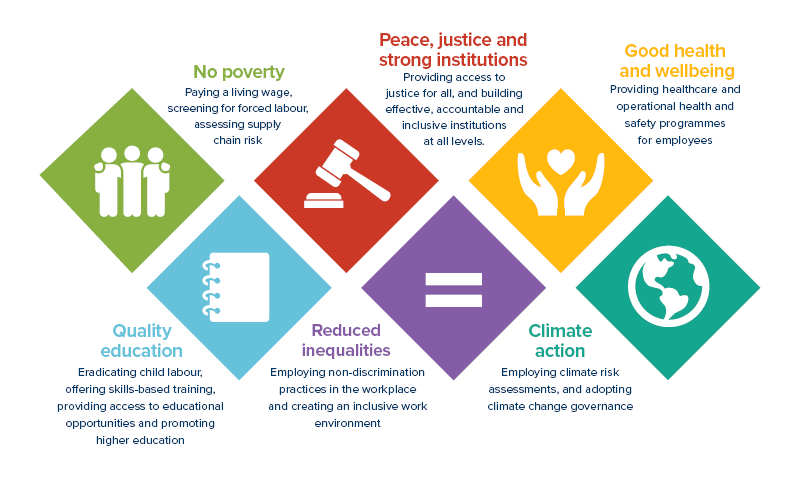 Our work is spearheaded by our Ethical Thinking Group, led by chairman, Nick Barwood. The Ethical Thinking Group meets quarterly, and comprises of senior leaders across the firm driving forward our responsible business work and setting the overarching goals and strategy. This group is supported by our Responsible Business Working Group, led by Responsible Business Manager, Charlotte von Sicard.
Diversity, Equity and Inclusion
Environmental, Social and Governance (ESG)